Youth Program
YNMA has designed its after school martial arts and tutoring program on the bases that "it takes a village to raise a child" and "it takes a child to inspire a village." Our program is a mechanism to facilitate our community in supporting its youth and, in turn, a reason and vehicle for our youth to respect their community.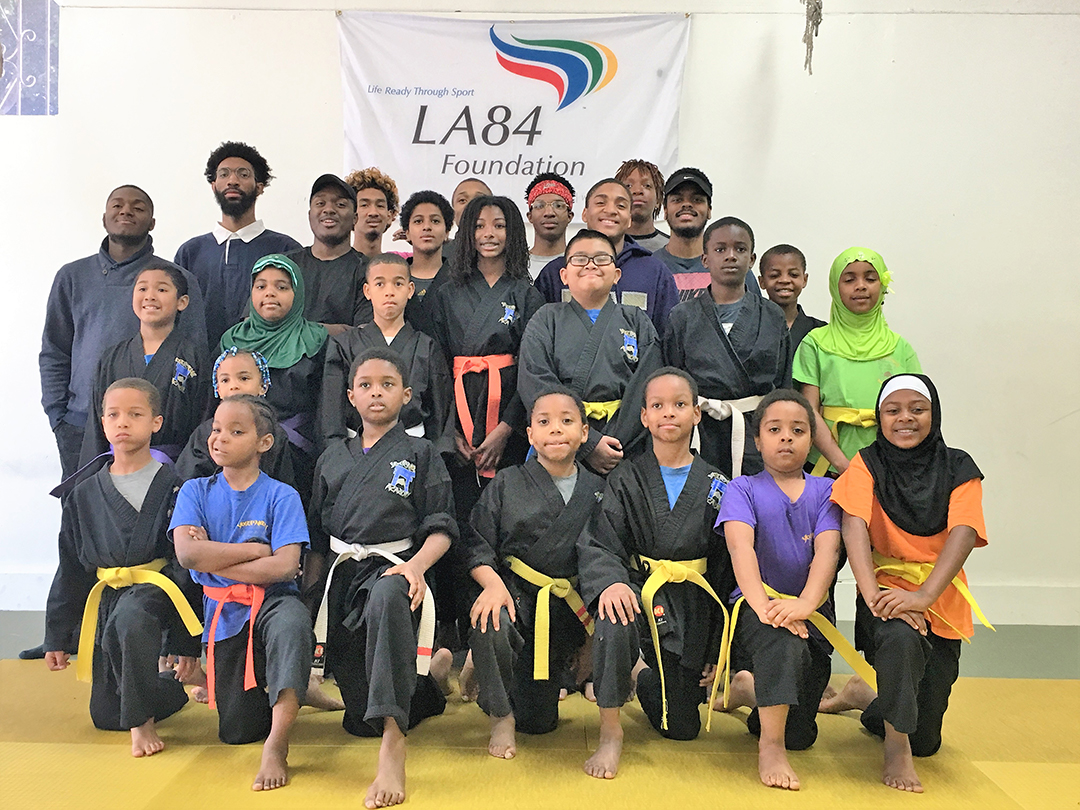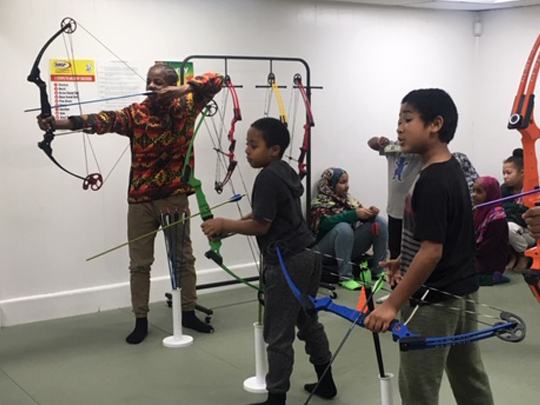 Learn Archery
Our young archers can take part in archery tournaments once they develop basic skills. Certain archers will be chosen to show their skills during community, school-based demonstrations to encourage other youth to become archers, too. As part of YNMA youth development, any archery student can take part in YNMA afterschool homework and tutorial services.
Class Schedule
Monday & Wednesday:
Youth Kenpo Karate (Pee Wee Beginners) — 3:30 pm – 4:30 pm
Youth Kenpo Karate (Beginning & Intermediate) — 4:30 pm – 6:00 pm
Adult Kenpo Karate (Intermediate & Advanced) — 6:00 pm – 7:30 pm
Tuesday & Thursday:
Youth Kenpo Karate (Pee Wee Beginners) — 3:30 pm – 4:30 pm
Youth Kenpo Karate (Beginning & Intermediate) — 4:30 pm – 6:00 pm
Adult Kenpo Karate (Intermediate & Advanced) — 6:00 pm – 7:30 pm
Saturday :
Youth Kenpo Karate (Beginning & Intermediate) — 11:00 am –12:30 pm
Martial Arts Program
Kenpo Karate
Kung-Fu
Ju-Jitsu
Kickboxing
Eskrima Stick/Blade
Women's Self Defense
Abduction Prevention
Bully-Proof Kids
Health & Wellness
Fitness Assessments
Weight Loss
Women's Fitness Classes
Nutrition
Health Education
Individualized Fitness Counseling
Wellness Counseling
Private/Customized Lessons
Private lessons are available as well as customized courses in which we can send our instructor to provide classes on site at your Company, Group, or School.
Youth Program Design
The martial arts component of our program is designed to catch youths' attention and direct their energies towards positive activities (martial arts and athletic competition) to decrease their time for idleness and their chances of getting into trouble.  YNMA utilizes martial arts to teach our students discipline, coordination, fitness, body strength, self-defense, respect, leadership, self-confidence, self-control, self-esteem, and overall positive character.  Our goal is to build upon these benefits and to create bridges to enable these virtues to flow into other aspects of the youths' lives.
The martial arts component of our program consists of:
After school sessions are offered to youth and their family members.
Martial arts students progress through the martial arts program traditionally achieving white, yellow, purple, green, brown and black belts.
Martial arts demonstrations in public forums are conducted in the community as our students develop routines and proficiency in their skills.
Martial arts competitions are utilized to entertain the community members and educate them on our programs and their achievements of their neighbors, both youth and adult.
Special martial arts training sessions free to elementary and high school educators and faculty to promote healthier relationships between educators and students outside of the classroom.
Services
Students and enthusiasts of karate have many reasons for their interest in martial arts.  Some are drawn to the physical fitness and weight-loss aspects of training.  Others seek to add discipline and self-control to their lives, while still others are concerned about safety and self-defense.
Whether you are interested in our programs for mental or physical well-being, Youth 'N Motion Academy offers a number of programs that will fit your developmental needs.
Family Programs
Our martial arts program has been designed to strengthen the parent-child relationship to develop our community's interest in its youth.  Our martial arts program is free for low-income age group seventeen and below; however, we have structured some of our classes such that the whole family can participate.  The parents of youth who attend our program are invited to enroll along with the children for a "below" market enrollment fee for adult martial arts.  This affords the opportunity for family members who may experience strained daily lives and relationships to 'join' on a safe, even field of play and learning that has proven to be an acceptable activity across generations.